Get Custom Built Fire Apparatus Fast! In as little as 90-210 days you can have Custom or Commercial Pumper, Tanker, or Aerial delivered to your Department. In addition, you get to manage the specs and design of your rig, while enjoying significant savings over a complex custom apparatus order. We give you the right choices at the right time and right price, so you get the finest Fire Apparatus built in America, Rosenbauer.
Rapid Response Solutions
Reduced
Lead Times
Rosenbauer's Rapid Response Quick Delivery Pumper Series provides departments with a headstart in taking delivery of their new pumper. Delivery times are affected most by major components such as pump, tank and chassis turnaround times. Skips those hassles by either ordering a "build-to-order" Rapid Response unit or selecting one already in our production schedule.
Top
Quality Components
No sacrifices, top of the line quality components. Rapid Response units are built with industry leading brands from warning lights to the fire pump.
Commercial
Chassis
Our quick delivery series is available in Freightliner M2-106 chassis, both two-door and four door models.
Commander
Custom Chassis
A well-equipped Commander custom chassis is the industry leader in maneuverability, hip room for driver and officer, hvac, lowest engine tunnel for better visibility and communication for rear seated crew.
Cummins ISL 9 450 hp

Allison 3000 EVS Transmission

20,000 lb. Front Steering Axle/27,000 lb. Rear Drive Axle

Seating for up to six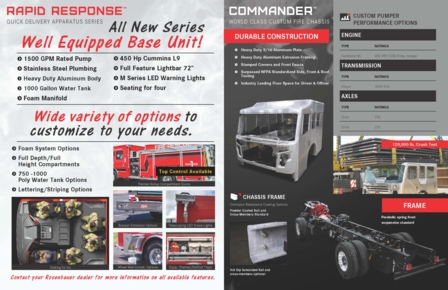 Rapid Response Custom Pumper
Rapid Response Custom Pumper is well-equipped with popular premium options
FX Body
Length Options
The Rapid Response FX Series offers the two most popular and versatile body lengths.
FX144" Extruded Formed Aluminum Body

FX156" Extruded Formed Aluminum Body
In production
FX build Stages 1, 2, 3 and Go!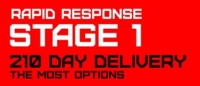 Ordering a fire apparatus is a great deal of work and planning. Rosenbauer's Rapid Response Series is divided into three stages to clear the confusion and delays. In each stage, Rosenbauer provides a defined list of options. As the apparatus moves through production, the stages advance as well.

Time fences only apply to units that are already in the production schedule.
EXT Body
Length Options
Departments may also choose the EXT heavy-duty extruded aluminum body in two lengths.
Download